Meet Tamanduá Farm
A pioneer in the organic sector and in biodynamic agriculture, the Tamanduá Farm is located in the city of Santa Teresinha, in the sertão of Espinharas, State of Paraíba, in the Northeast of Brazil. The presence of an imposing rock formation typical of the sertão, the inselberg called Serrote Tamanduá, was what originated the name of the Farm, which belongs to Mocó Agropecuária Ltda since 1977.
Learn more
What we produce at the Farm
Mango production 2020
Biodynamic spirulina production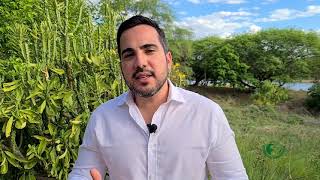 Interview with Arthur Navarro
IBAMA Superintendent
Click to see more videos
Fauna
CLOSE
Ilustrated Fauna from Tamanduá Farm
We have established the largest Private Reserve of Natural Heritage in the upper sertão of Paraíba with more than 350 acres. With years of research and studies, Tamanduá Farm has transformed itself into a refuge and sanctuary where amphibians, reptiles, birds and mammals, until recently considered almost extinct, live and reproduce, such as wild cats (jaguarundi and margays), the hoary fox, crab-eating racoons, the East Brazilian chachalaca and the Red-shouldered spinetail and even migratory birds from the United States and Canada such as the Peregrine Falcon.
Clck and discove
Flora
CLOSE
Herbaceous Plant Guide of Tamanduá Farm
The predominant vegetation is dense shrub-tree caatinga, in good condition, composed mainly of deciduous and thorny species, with the occurrence of annual cacti and herbaceous plants that develop during the rainy season.
Clck and discove
Cultura
CLOSE
Cultura
Fazenda Tamanduá is also concerned with valuing the culture of the sertão, whether through traditional events such as the Festa Junina da Paraíba, São João, music and local poetry, as well as taking and expanding the knowledge of this culture to other countries.
Clck and discove